Rishi Sunak is the name trending for the Prime Ministere race in the UK Rishi Sunak is one of the contenders to replace Boris Johnson. Rishi Sunak family.
Rishi Sunak is a British politician born on 12th May 1980 in Southampton a port city in the ceremonial county of Hampshire in southern England. The Indian-origin leader is the son of Yashwir Sunak and Usha Sunak.
Inheritance Rishi Sunak family from Punjab
His ancestry belongs to Punjab, his grandfathers were born in Punjab and they later shifted to East Africa. Yashwir Sunak, the father of Rishi Sunak was born in Kenya. It was his grandmother who flew all the way to Britain with the hope of a better living. She managed to find a job and worked hard. Rishi's mother Usha Sunak studied hard and got qualified to be a pharmacist. After meeting with Yashwir Sunak in NHS GP, they both got married and settled in Southampton.
Yashwir Sunak and Usha Sunak have three children Rishi, Rakhi, and Sanjay. Yashwir Sunak was a General Practitioner (GP) in the National Health Service (NHS) while his mother ran a pharmacy.
Speaking about his cultural roots he said in the Business Standard interview, "British Indian is what I tick on the census, we have a category for it. I am thoroughly British, this is my home and my country, but my religious and cultural heritage is Indian, and my wife is Indian. I am open about being a Hindu."
Rishi Sunak Family – Wife
Akshata Murthy is Rishi Sunaks wife. She is the daughter of Narayan Murthy (Indian billionaire and co-founder of Infosys) and Sudha Murthy. Her profession is fashion designing. She is an Indian fashion designer based in the UK. Rishi and Akshata met each other at Stanford University while they were studying for an MBA.
Rishi Sunak Kids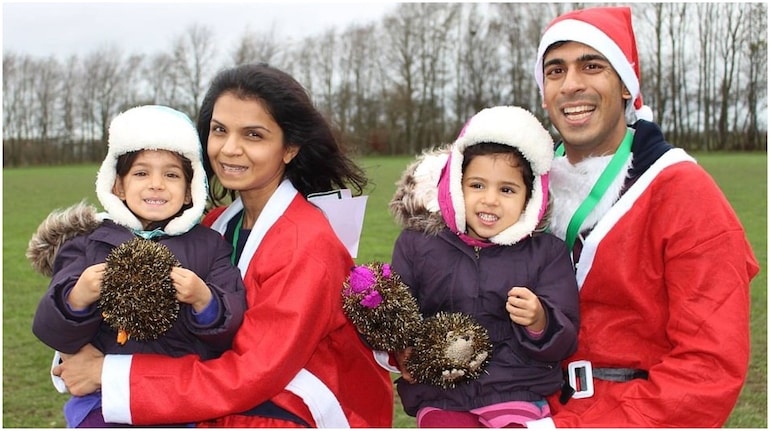 Rishi Sunak and Akshatha Murthy have two daughters. Rishi and Akshata got married in 2009 in Bengaluru and have two adorable daughters, Anoushka and Krishna.